Fast Health

 Laser Coaching
Feeling Overwhelmed, Anxious, Stressed Out, Tired Out, Overweight, Out of Shape, or just need an accountability partner? Get the Scoop on this Unique, Unlimited, 1-on-1, Personalized, Comprehensive program with Dr Marilyn Joyce, The Vitality Doctor™...
Grab your spot now (​limited spots available) - ​​​​AND get ​your hands on a free copy ​of my #1 international bestseller, "The Stress to Success Formula: Transform Your Life, Career and Business NOW!"... when you invest in ​either: ​
360 Days...or 180 Days...to Freedom from the ravages of Chronic Ongoing anxiety, Stress​, Fear, overwhelm, Sadness, grief, uncertainty, ​chaos, Burnout, and Depression!

​​Transform Your Troubles into Triumphs & Your Stresses into Successes! And Get Your Life Back!
FOR A ​"FATHER'S DAY" ​SPECIAL (June 14th - 20th) Click Here: ​​​http://bit.ly/FathersDayHalfOff

My "Fast Health Laser Coaching" Program Offers You Unlimited, One-On-One Nutrition, Health and Whole Person (physical, mental, emotional and spiritual) Coaching and Mentoring with me for a Full Year --- for less than $167/month (or 180 days for less than $200/month).
You see, it was my 68th birthday a couple of months ago…and I've outlived my prognosis of less than 2 weeks to live in 1989 by 28 years! So I was trying to come up with a way to celebrate that would also be a gift from me to you, or for someone you know who could really benefit from my comprehensive, "getter done", yet compassionate, holistic approach to coaching and mentoring. Best part...I give you lots, even endless, 5-minute strategies that you can do any where, any time!
​And then it all came to me in the middle of the night! Seriously! It was one of those sleepless nights (in Long Beach though, not Seattle! LOL). So I decided to watch a replay of a webinar by my own mastermind coach, thinking this would surely put me right to sleep. But I was wrong!
He outlined, in a short 30 minute video, a coaching model that grabbed my attention and all the lights came on. Over the past couple of years I've been noticing that the people who have contacted me want an accountability partner, and want to work one-on-one with me. But quite frankly, for a lot of folks, the investment is just too high for my regular programs.
So now I have a way for people to coach and mentor with me that I'm really excited about and I wanted to share it with you in case you might be interested, or you might know someone else who would be interested. For a limited time...just until I have 8 - 10 new clients, since that's the most I can give effective quality compassionate attention to at one time...you can sign up for unlimited "Fast Health Laser Coaching" with me for one full year for a one time investment of only $1997 (that's less than $​167/month!).
You Can Get Started Now...so you can have the healthiest, happiest, least stressful, most productive, and most rewarding year of your life to date!
Let me coach and mentor you to: Create Your Best Nutritional Program Ever - Design Your Own Personalized Healthy Lifestyle Plan - Release Those Stubborn Pounds or Kilograms You've Been Unhappily Carrying for Too Long - Plan and Implement Quick and Easy 5-Minute Energizing Healthy Tips, Ideas and Strategies - Ramp Up Your Energy Instantly - Eliminate Stress, Anxiety, Sadness, Depression and Burnout Now...
Any Nutrition, Health, Wellness and Life Goal You Want! You Name It, We'll Take It On!
Like I said, I'm limiting this to 8 - 10 people because I'm not sure I can handle more right now. And here's the deal...You get unlimited 15-minute laser coaching sessions with me for a full year, where you and I will get to spend really super laser focused chunks of time together and create rapid results for you. And it's NOT astronomically priced!
On each session, we agree on your homework, and you must complete your homework before you schedule your next session. If you want to do your homework immediately, then you can schedule your next session that very same day. This is truly unlimited health, wellness and life coaching and mentoring for only $1997 (divide that number by 12 to see the crazy low investment per month, who else DOES this?).
Other clients have invested $2K PER MONTH with me to be coached and mentored back to health, along with help in achieving their long term health, wellness and life goals. Don't believe me? Just check out the programs at Kick Cancer In the Can®! ​But you'll get access to that same high level of advice, guidance and direction during our 15 minute laser sessions FOR ONE FULL YEAR (or 6 Months if that works better for you right now)!
If you have any questions, email me ASAP (drmarilynjoyce@gmail.com) because this offer is over, at least for the next few months, after it fills up (​​and the maximum I can handle at one time is 8 - 10 clients). So act fast. I truly look forward to the opportunity to mentor you, or a loved one.
And here are the links to get started right away.
Click on the first "Add to Cart" button to get started on ​the 360 Day (1-year unlimited) Program...​
​Or click on the ​second "Add to Cart" button ​​to get started on the 180 Day (6-month unlimited) Program...
Only want 30 Days (1-month unlimited​)? Click ​on the ​third "Add to Cart" button ​​to get started now!

And Did You Know...
I'm also a #1 international best selling author and internationally renowned (interactive) keynote speaker on Releasing and Eliminating Stress with quick and easy 5-minute strategies and systems. Nothing would give me more joy (after all, that's part of my last name: JOYce) than to come out and inspire and inform your groups and audiences on stress eradication( NOT just reduction! Or "management"! ), whole person health (Body-Mind-Spirit), nutrition, and complete well-being. And can you believe it? In only 5 minutes at a time! Who else offers this kind of speed??? So go ahead...what are you waiting for? You can reach me by phone at 800-352-3443, or by email at drmarilynjoyce@gmail.com
The Stress to Success Formula: Transform Your Life, Career and Business Now!
By Dr. Marilyn Joyce, PhD, RD
"The Stress to Success Formula" was launched on August 10th, and skyrocketed to #1 International Bestseller in 24 hours! And we're having a huge celebration where you're the winner! Apart from getting access to this life transforming book by visiting Amazon, you'll also get your hands on an incredible grab bag of immediately useful gifts to support you on your journey to your most stress-free life possible.All you have to do is send us a copy of your receipt or the amazon receipt order number to drmarilynjoyce@gmail.com, and we'll send out the link to your goody bag ASAP.
The dream of a ​stress-free, happy and joyfully productive life, career and business is possible for anyone, if they just have the right practices, systems and tools to make it happen. And the simpler, easier and quicker the better...As we all know, Stress waits for no one!
Are you ready to "Transform your stress-related Troubles into Triumphs, and your Stresses into Successes?" Great! Then hop on board for the ride of your life! And a whole lot more success, relaxation and fun!
INSTANT E.N.E.R.G.Y.™ By Dr. Marilyn Joyce, PhD, RD
The 5 Keys to Unlimited Energy & Vitality!
The absolute A to Z, soup-to-nuts guide to everything you need to know to prevent or overcome a life-threatening illness!
This book is full of easy-to-follow charts, a month of menus, and more than 200 healthy, mouth-watering, nutritious, delicious, quick and easy recipes. But wait: there's much more! You will find one of the most comprehensive Mind-Body-Spirit sections ever compiled in one book, plus a completely updated and expanded resource section. Regardless of your present level of health – or lack of it – you can start today to create real, sustainable and lasting energy, vitality and outstanding health. INSTANT E.N.E.R.G.Y.™ reveals the 5 simple, time-tested keys that have already been used by thousands of people, to transform their lives from life-less to full of life!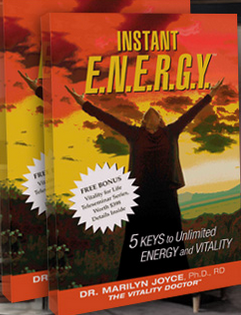 Now you get to experience Dr Joyce's ultimate guide to whole person health (Mind-Body-Spirit)
$29.97
I Can't Believe It's Tofu! By Dr. Marilyn Joyce, PhD, RD
This book takes the "Yuk!" out of tofu. It's for anyone who can't get past the look and taste of tofu, or who doesn't know how to use it but wants to have its health benefits. This is the most complete and easy-to-use tofu guide available. It answers every question you have about what tofu is, how it is made, its numerous health benefits, and how to incorporate it daily into your diet as part of a delicious, nutritious eating plan.
What sets this book apart from all the rest is it's absolute simplicity of use – and no recipe takes more than 1 – 5 minutes to prepare!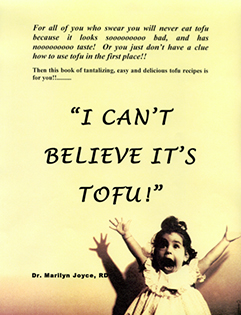 $19.97